Profile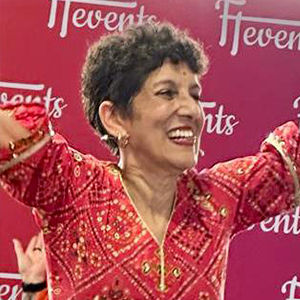 naki@masaladance.com
0416 032 126
City/State:Cheltenham Victoria
Country:Australia
Zip/Postal Code: 3192

27th June, 2016
Bio:
When did you discover MB and what were your first impressions? I was first introduced to Masala Bhangra when Shalini came to do the first Ambassador training in Melbourne around four years ago. Once the training was complete, Shalini held a master class which I attended – I absolutely loved the simplicity of the class format that still delivered an effective workout. There was also a sense of fun in the room that was infectious. Have you always been a dancer or involved in fitness? I trained in classical ballet for many years as a child/teen, after which my involvement with dance was just social until around 15 or so years ago. Then I returned to dance classes with a vengeance, taking on Hip Hop, Bellydance, Broadway, Bollywood, Burlesque and, of course, the classic gym dance class offerings, Body Jam and Zumba. However it never occurred to me that I might be able to teach any of these myself until an instructor suggested it to me almost eight years ago – once the idea took hold, I started by qualifying as a Zumba instructor and then there was no stopping me! When did you become an Ambassador? I did my Level 1 training with Sarina in 2016, and then Level 2 with Cloe early in 2018. Since then I've worked closely with both Cloe and Sarina to make the exciting leap to Master Trainer. Why did you decide to make the leap to teaching Masala Bhangra? I'd been waiting for Masala Bhangra ambassador training to be offered again in Melbourne after my initial exposure to Shalini's master class as I knew this was a workout that I'd love to teach - I suspect I was the first person to sign up once the training details went online! How did you grow your classes / student base? How are you increasing the number of Ambassadors in Australia? Once I qualified as an ambassador, I approached the gyms I teach at regularly to ask if they would consider scheduling classes, even as a one-off special class to gauge interest in Masala Bhangra. Some were reluctant to try, but Crunch Fitness gave me a shot with not one, but two special classes a couple of months apart – both were well attended and the feedback was great so when a spot opened up in the class schedule, they asked if I'd be interested in teaching a regular Masala Bhangra class. Even though it wasn't a particularly desirable time in the schedule, I was able to build up a small, but committed group of attendees by keeping the moves simple, but making sure the choreography was different each week to keep them engaged and challenged. Then a better time slot opened up in the next quarterly review of the schedule and it was offered to me for Masala Bhangra. We haven't looked back since! The class is promoted mainly by word-of-mouth and we have established a wonderful (much larger) community. I consider them all friends. I seize every opportunity to teach Masala Bhangra at other venues and locations, even if it's just a short demo as part of another dance class. The more people who become familiar with the Masala Bhangra name, the better the future for Masala Bhangra in Australia! At present we have only a handful of Ambassadors in Australia, but with every public demonstration we do and with every new location we introduce a demo class, we hope that demand for more classes will increase and therefore the demand for Ambassadors. Do you have any advice for people considering becoming an Ambassador? The format of Masala Bhangra makes this a workout that can be shared and taught by anyone who has a good understanding of the 32 count. It gives us an opportunity to be creative if we choose to be with our choreography, but the support is always there through the Network when we need it. Take the leap, be prepared to challenge yourself and, above all, have fun! You have nothing to lose and so much to gain! What's your favourite dance step/move or favourite song? A recent favourite move has been Earthquake, but I think I can safely say I've never choreographed a routine that hasn't included Dhol Beat! I love so many of the songs, but if I have to choose just one, I'd say 'Twist'.
Certifications/Licenses:
- Level 1
- Level 2
Mantra:
Dance like no-one's watching!