What's been said about us by...

You have a gift, you energize people.
— Deepak Chopra, leading mind, body, spirit guru and writer of Ageless Body, Timeless Mind

Masala Bhangra® makes you feel and look sexy. I love it!
— Maria Menounos, Access Hollywood reporter

LOVE LOVE LOVE your DVD! The very first time I put in Sarina's DVD, my children who are 8 and 10, stopped what they were doing and joined me!! They absolutely LOVE the workout too! The music is enticing and the moves are catchy! You don't even realize that you are really working out! My kids beg me to put in Sarina's DVD - they absolutely LOVE it!
— Stefani Schaefer, anchor for OHIO Fox 8 News

The music makes it impossible not to move!
— Paulina Prizkova, former super model and from America's Next Top Model. Porizkova is a regular at instructor Sarina Jain's Masala Bhangra® classes at New York City's Crunch Gym

I LOVED it!!!! Not only is [The Masala Bhangra Workout®] different from any other workout, but my cardio rate increased a lot! Sarina is really charismatic and I love the way she motivates during the workout, she's great!
— Cristina Scabbia, lead singer of Lacuna Coil and Metal's Sexiest Frontwoman

[Sarina Jain] is on a fitness mission, out to turn every overweight body into a lean mean mast figure. If you seek spirituality in a healthy body and mind, then she most definitely deserves the post of Fitness Guru.
— Fit Filmi Funda - Asiasource.org

Part of the Easternization of this country has included the influence of Sarina Jain of Masala Dance & Fitness, Inc.—also known as "The Indian Jane Fonda"
— I want to dance like Parminder - Parminderonline.com

Ms. Jain, whose bhangra dance-fitness video is called "The Masala Bhangra Workout®," introduced herself as the Indian Jane Fonda."
— Riffs From the Punjab - NY Times

As a participant of Ms Jain's class in New York City, I found her to be energetic, enthusiastic, clear, confident, and fun.
— Natalie Jordet, Lifestyles Editor, Fitness Magazine

The Masala Bhangra Workout® is the hottest workout in California.
— Ch. 11 - KTTV

Sarina is a burst of ENERGY
— Roger Mathai, Sports Anchor, KNTV

"The Masala Bhangra Workout® changed my life – it got me back into dancing, one of my true passions in life, and it made me realize that teaching was my calling. I am happier and healthier than I have ever been, and I love my job! Sarina is a true inspira
— Mickela Mallozzi, NYC

"Since I introduced the Masala Bhangra Workout® in my studio the response has been great. Students love it because it's so different from any workout they have ever done. They rave about how much fun they have and how great it makes them feel. As a result, class attendance has been consistent and it's been a great source of client referrals. I've benefited personally from being a Masala Bhangra Workout® instructor. After teaching the workout on a regular basis, I've definitely seen my endurance level improve."
— Kelly Ficarra, Long Island, NY

"Last year in June as it became clear that the pandemic was not going to end any time soon, I decided to give Sarina Jain's online Masala Bhangra class a try. I had seen one of her classes perform a few years before at Alvin Ailey's World Dance Festival and the energy, spirit, and joy in the performance stayed with me, and though I was interested in trying the class for myself it was hard for me to get to the Ailey studios on a regular basis. From the very first virtual class, Sarina has been extremely warm and welcoming. Her enthusiasm for teaching and sharing Masala Bhangra is infectious! She infuses each class with creativity, humor, and joyful movement. I have learned so much from her about Indian traditions and culture, and enjoy the community she has created with our virtual group. I feel very grateful to Sarina."
— Mara E

"Sarina's classes over the pandemic have kept me sane. It's not just the cardiac exertion (although, believe me, it's there), it's the complexity of the moves, the coordination of arm and leg and choreography, that is the exercise. The dance is different every time, which means you can come back and come back and feel that every time is unique. AND: she makes me laugh!"
— Ann R

"I grew up as a serious ballet dancer, one who practiced 15-20 hours a week but who never had the 'right' body and never fit in. When I discovered Masala Bhangra, I felt like dance was given back to me again. I feel more joy, confidence, and pride dancing with Sarina than I've felt in my body my whole life, and through her classes, I've connected to the most extraordinary group of friends, people of all ages, backgrounds, and ethnicities who truly care about each other and love to dance. Without exaggeration, I can say that Masala Bhangra has changed my life and I am so thankful for the singular place Sarina has created for all kinds of people to dance together."
— Emma K

"I have been enjoying Masala Bhangra with Sarina since she taught classes at New York sports club over 15 years ago. It is the most invigorating and fun class I have ever taken. I have tried other aerobic classesand they have not held my interest or been half as fun. Exercise is hard and Sarina makes it easy to get my aerobic in."
— Sharae H

"Masala Bhangra helped bring me back to optimism during Covid. I'm a woman Marine. My independent streak is a mile wide, and solid as granite. Being forced to work from home meant that my interactions were very "black and white," when I'm used to enthusiasm, emotion, and the energy of helping fellow veterans. I have been forced to call veterans and families, rather than see them in their homes (or care facility). I help veterans with severe mental illness, Parkinsons, MS, alzheimers, etc. My job with the VA is to ensure that veterans, their widows, and disabled children are financially protected. I assign payees to manage VA funds, when a veteran becomes incapacitated. I also investigate thieves, which upsets me very much. How anyone can steal money from a veteran, widow, or child is beyond my capacity to understand. I put on my "Marine face," a big smile, gather evidence, and try to get the money back for that family. I drive all over eastern Washington, northern Idaho, and western Montana. Pre-Covid, my "self care" was attending belly dance classes in Spokane, WA. Very amateur, but the other ladies are full of positivity. I started taking the classes in 2018, and was just starting to feel pretty. I didn't know how to make friends with other women, and was learning to trust in friendships. I think it's important to detail the above to indicate how much I love protecting veterans, and how my sense of beauty in myself was just beginning to grow. When Covid forced me to work from home, it meant I could only call veterans and their families. How do I know what's going on if I can't see their home, feel their energy, and let my gut instinct ask the right questions? I gained 25 pounds in six months. I found my Masala Bhangra Volume 1 DVD in December. I wore out that copy by February, and had to replace it. Volume 2 is now looking worse for wear! I do one of Sarina's DVDs each day. I lost 18 pounds, and found my smile again. I've got volumes 1-4, Bhangra Burn, and Bollywood Blast. i keep googling, "Masala Bhangra" to see if I'm missing one. I'm now comfortable enough to take her online class on Saturday mornings. I used to sleep in, but the class is at 07:30. LOL. I really love Sarina's energy. Masala Bhangra is bringing me back to a beautiful life, and my beautiful self. Most sincere thanks."
— Renee R

"One can only speak of Sarina Jain and Masala Bhangra in superlatives . Sarina is the best, the class participants are the happiest, most inclusive, the dance is the most joyful! I started taking classes with Sarina in 2018. I was lured into the class by the music. After I peeked in to get a better listen of the music I was more drawn by the moves and the jubilance of the group. In addition, this practice is very unique in that it not only keeps me moving, but it keeps me growing. I am always learning new moves and new music, and new aspects of Indian culture. After only a few months of taking the class I signed up for the performance class and I am so glad I did. I loved the intense and exhilarating practices and the friendships I made. I will be forever thankful that Masala Bhangra and Sarina Jain were introduced into my life."
— Heidi D

"I started taking Masala Bhangra classes with Sarina in 2012. I had just graduated from college and had finally decided to change my sedentary lifestyle by taking some classes as the Alvin Ailey Extension School. I'm sure I accidentally bumped into every one of my fellow classmates during that first class, but from that point on, I was hooked! Every week, twice a week, I knew I was going to step into a welcoming room and concentrate on nothing other than the music and movement. I realized just how much Masala Bhangra meant to me when I suddenly wasn't able to do it. In the spring of 2018, almost overnight I lost my ability to walk and talk, I couldn't feel the entire left side of my body and had widespread nerve pain. The medication I was on caused me to gain 40 lbs in just a few weeks. It took months to be properly diagnosed with an extremely rare autoimmune disorder and begin to regain what I had lost. My doctors and physical therapists told me I had to be stubborn about my recovery and to set goals that I could work toward. From the outset, one of my goals was to be able to return to Masala Bhangra. First, I practiced walking confidently, then turning, then jumping. A few months after I first became sick, I attended class for the first time. I couldn't do every move and sometimes felt frustrated with myself, but I was thrilled to be back to dancing! Masala Bhangra helped motivate me and helped me in my recovery. During the pandemic, virtual classes have helped keep the connection strong and I cannot wait to dance again in person soon!"
— Katie G

"Where Sarina Jain's positivity and energy made Masala Bhangra inspirational pre-pandemic, it became absolutely essential during this time. Thoroughly enjoyable experience."
— Anitra D

My daughter and I took Sarina's class at Alvin Ailey in NYC and loved her and the workout. What great energy she has. I went home and ordered all of her videos. I just watched the Bollywood style and worked out for 54 minutes, of which 27 minutes were continuous movement from my pedometer reading. I perspired. I hope to learn all of her dances and take another class from her in OHIO or the next time I go to NYC. Thanks Sarina for the most fun hour of my physical workout life.
— Chris Gerst, Ohio

Hi Sarina, I took your class at Alvin Ailey at the end of March. IT was AWESOME!!!! I got some much energy from that class. Towards the end of class when we were all sweaty moving from one corner to another to another doing some moves to Slum Dog Millionaire I got all choked up I had tears of absolute joy and love run down my cheeks. It was just beautiful. The way you happily bring folks together, as I looked around everyone had a huge smile on their face. Thank you so much for sharing your big beautiful heart-felt energies. this is the way it should be!!!!
— Abra Faraon, California

I love the new website. I love the workout. I love Sarina (who doesn't?)
— Omar Jhoomer, New Jersey

You are just wonderful. A great teacher. I love working out with you everyday in my basement. It feels so live. We are actually finishing our basement so that I can have my own dance/exercise area. I want to learn to dance to all Bollywood songs. Once again, I love you and your workout, especially Back2 Bollywood...
— Simi Sastry, Maryland

Thank you for a wonderful experience today at Self Magazine in the Park. As a first timer, I was amazed and excited to share in this wonderful expression of dance. Thank you for such a great work out.
— Rose Famiglietti, NY

I was skeptical, but what a great workout! I was absolutely sweating.
— Allison Hickey, Levittown, NY

Your exuberance made the class so much fun, I barely remembered we were having a workout!
— Heather McGee, West Los Angeles

First of all, I'm extremely particular - a workout - has to be fun but challenging and I am easily bored. I loved your workout!!! It's the best!
— Jenny Pointer

This was a brilliant idea. Since I have been doing your video along with my treadmill work out I have lost 2 inches in my waist and 2 off my hips and everything is slowly falling into place.
— Asha Pramar, Canada
Before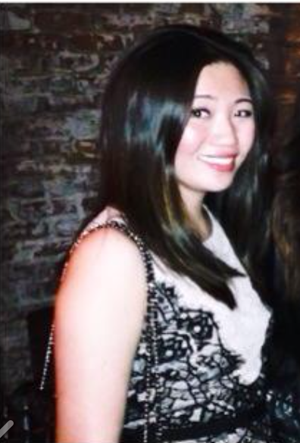 After

"I have always hated going to the gym and using machines, so I just chose to not exercise. Then I discovered Masala Bhangra at Ailey Extension with Sarina, and I found myself actually enjoying working out because the dance routines are so fun. For the first time ever, I was exercising without looking at the clock every two minutes. I have lost 20 pounds from Masala Bhangra and would recommend it to anyone looking for a fun and effective dance workout."
— Cindy Fan