What's been said about us by...

You have a gift, you energize people.
— Deepak Chopra, leading mind, body, spirit guru and writer of Ageless Body, Timeless Mind

Masala Bhangra® makes you feel and look sexy. I love it!
— Maria Menounos, Access Hollywood reporter

LOVE LOVE LOVE your DVD! The very first time I put in Sarina's DVD, my children who are 8 and 10, stopped what they were doing and joined me!! They absolutely LOVE the workout too! The music is enticing and the moves are catchy! You don't even realize that you are really working out! My kids beg me to put in Sarina's DVD - they absolutely LOVE it!
— Stefani Schaefer, anchor for OHIO Fox 8 News

The music makes it impossible not to move!
— Paulina Prizkova, former super model and from America's Next Top Model. Porizkova is a regular at instructor Sarina Jain's Masala Bhangra® classes at New York City's Crunch Gym

I LOVED it!!!! Not only is [The Masala Bhangra Workout®] different from any other workout, but my cardio rate increased a lot! Sarina is really charismatic and I love the way she motivates during the workout, she's great!
— Cristina Scabbia, lead singer of Lacuna Coil and Metal's Sexiest Frontwoman

[Sarina Jain] is on a fitness mission, out to turn every overweight body into a lean mean mast figure. If you seek spirituality in a healthy body and mind, then she most definitely deserves the post of Fitness Guru.
— Fit Filmi Funda - Asiasource.org

Part of the Easternization of this country has included the influence of Sarina Jain of Masala Dance & Fitness, Inc.—also known as "The Indian Jane Fonda"
— I want to dance like Parminder - Parminderonline.com

Ms. Jain, whose bhangra dance-fitness video is called "The Masala Bhangra Workout®," introduced herself as the Indian Jane Fonda."
— Riffs From the Punjab - NY Times

As a participant of Ms Jain's class in New York City, I found her to be energetic, enthusiastic, clear, confident, and fun.
— Natalie Jordet, Lifestyles Editor, Fitness Magazine

The Masala Bhangra Workout® is the hottest workout in California.
— Ch. 11 - KTTV

Sarina is a burst of ENERGY
— Roger Mathai, Sports Anchor, KNTV

"The Masala Bhangra Workout® changed my life – it got me back into dancing, one of my true passions in life, and it made me realize that teaching was my calling. I am happier and healthier than I have ever been, and I love my job! Sarina is a true inspira
— Mickela Mallozzi, NYC

"Since I introduced the Masala Bhangra Workout® in my studio the response has been great. Students love it because it's so different from any workout they have ever done. They rave about how much fun they have and how great it makes them feel. As a result, class attendance has been consistent and it's been a great source of client referrals. I've benefited personally from being a Masala Bhangra Workout® instructor. After teaching the workout on a regular basis, I've definitely seen my endurance level improve."
— Kelly Ficarra, Long Island, NY

My daughter and I took Sarina's class at Alvin Ailey in NYC and loved her and the workout. What great energy she has. I went home and ordered all of her videos. I just watched the Bollywood style and worked out for 54 minutes, of which 27 minutes were continuous movement from my pedometer reading. I perspired. I hope to learn all of her dances and take another class from her in OHIO or the next time I go to NYC. Thanks Sarina for the most fun hour of my physical workout life.
— Chris Gerst, Ohio

Hi Sarina, I took your class at Alvin Ailey at the end of March. IT was AWESOME!!!! I got some much energy from that class. Towards the end of class when we were all sweaty moving from one corner to another to another doing some moves to Slum Dog Millionaire I got all choked up I had tears of absolute joy and love run down my cheeks. It was just beautiful. The way you happily bring folks together, as I looked around everyone had a huge smile on their face. Thank you so much for sharing your big beautiful heart-felt energies. this is the way it should be!!!!
— Abra Faraon, California

I love the new website. I love the workout. I love Sarina (who doesn't?)
— Omar Jhoomer, New Jersey

You are just wonderful. A great teacher. I love working out with you everyday in my basement. It feels so live. We are actually finishing our basement so that I can have my own dance/exercise area. I want to learn to dance to all Bollywood songs. Once again, I love you and your workout, especially Back2 Bollywood...
— Simi Sastry, Maryland

Thank you for a wonderful experience today at Self Magazine in the Park. As a first timer, I was amazed and excited to share in this wonderful expression of dance. Thank you for such a great work out.
— Rose Famiglietti, NY

I was skeptical, but what a great workout! I was absolutely sweating.
— Allison Hickey, Levittown, NY

Your exuberance made the class so much fun, I barely remembered we were having a workout!
— Heather McGee, West Los Angeles

First of all, I'm extremely particular - a workout - has to be fun but challenging and I am easily bored. I loved your workout!!! It's the best!
— Jenny Pointer

This was a brilliant idea. Since I have been doing your video along with my treadmill work out I have lost 2 inches in my waist and 2 off my hips and everything is slowly falling into place.
— Asha Pramar, Canada
Before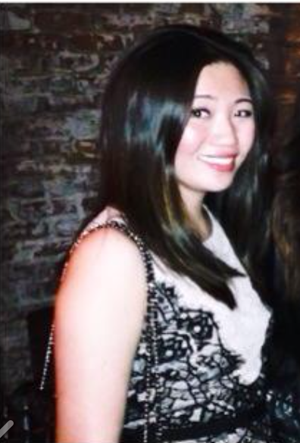 After

"I have always hated going to the gym and using machines, so I just chose to not exercise. Then I discovered Masala Bhangra at Ailey Extension with Sarina, and I found myself actually enjoying working out because the dance routines are so fun. For the first time ever, I was exercising without looking at the clock every two minutes. I have lost 20 pounds from Masala Bhangra and would recommend it to anyone looking for a fun and effective dance workout."
— Cindy Fan