Meet Ambassador Seema Tatla: Building Community in North Carolina, USA
April 10, 2018 [Seema Tatla]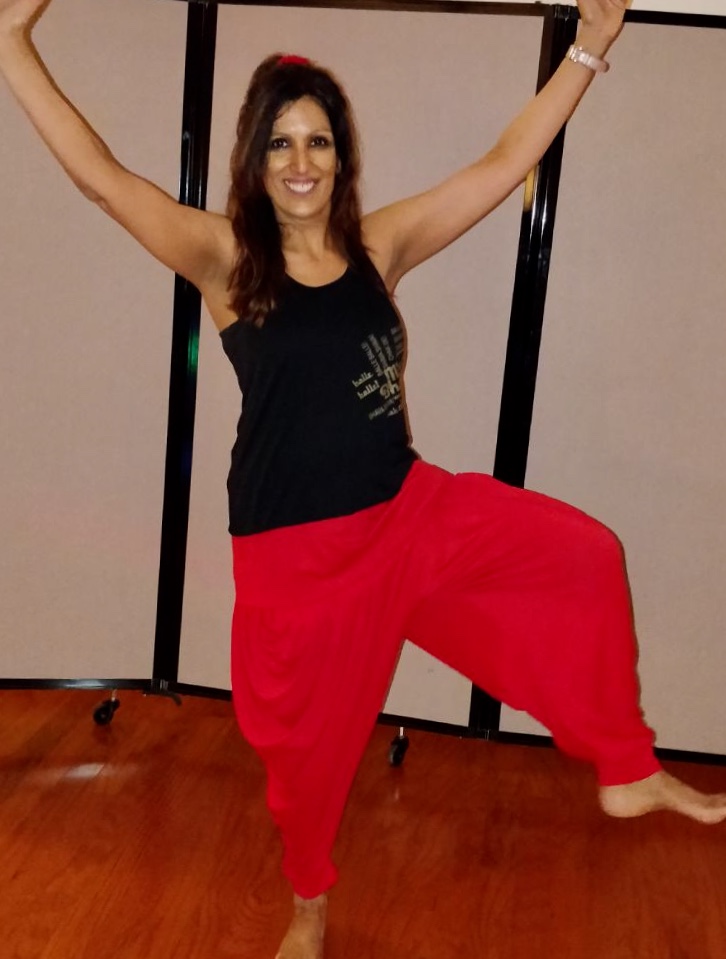 When did you discover Masala Bhangra and what were your first impressions?
I remember way back when MB first came out, I thought what a good idea!! I even bought a couple of videos. Bhangra has always been my passion, so anything to do with Bhangra - I LOVE!! My hubby was my Bhangra partner in College since then it has been a huge part of our life. Today I enjoy teaching MB, it is my favorite dance fitness format and I really look forward to teaching class. MB is a perfect fit for me!!
Have you always been a dancer or involved in fitness?
I have danced since the age of 7 - many formats - Ballet, Modern, Ballroom, Kathak, Odissi, Bharatnatyam, Bollywood, Indian folk and my favorite was always Bhangra!! My fitness journey started in 2010 with Zumba.
When did you train to become an Ambassador?
Atlanta, May 2015 with Gail Barranda Rivas
Why did you decide to teach Masala Bhangra?
I attended my first Zumba class in 2010 – one of the songs played in class was Bhangra and I thought wow I can do this!! Got home looked for trainings and signed myself up. After a couple of years of teaching I decided to take fitness more seriously, got my AAFA group certification and started teaching other formats. MB was always on my bucket list, but there was never a training close by. When I saw the one in Atlanta, I thought why not – only a 5 hour drive. I took my hubby and we did it together. I had a good following for my Bollywood dance fitness class, so I hoped it would be an easy add on.
How did you grow your classes / student base?
I started by renting space, one class a week and only a few students, I think just 4 came religiously. Today I have a total of three MB classes and all have grown significantly. It took time to get my Bollywood ladies to try MB but now many students take both classes. Word of mouth along with Social media and Meetup played a huge part in growing my classes.
I also worked at a fitness facility - UNC Wellness Center where I taught a several classes. I got the opportunity to sub another dance fitness class, I chose to teach MB instead of Zumba. I asked everyone to write comment cards saying what they thought. Members loved it and I was asked to put a class on the schedule. I have taught that class since January 2016 and it has been going strong since. So happy this year, I had to put the "Class Full" sign outside a couple of times!!
Tell us about your students and what they're like
My students like to get a good workout, they want to work hard and sweat! They most definitely get that with MB. My regulars enjoy that I keep my choreography fresh and want me to include challenging steps like sits and combos. I love when we are almost at the end of the Jam and I say one more time and they shout YES!!
What was a challenge (or challenges) you faced as you grew MB in North Carolina? How did you overcome them?
I realized very quickly the simpler I kept it the better the experience for my students. My biggest challenge now is how to keep it simple enough for first timers, yet challenging and interesting enough for those who come every week. I also have found I am more successful when I give options – for example some don't like turns/spins, so I always give an alternative. The music is also a huge part, finding the right music for the jam sessions is key - it's about the beat, the energy and song choice. My students are diverse so I really try to mix the jam music it up to appeal to everyone. In the jam session I have a good mix of Bollywood, Bhangra and English and even Latin fusion remixes. My classes have been growing, so I believe I am now have a happy balance.
Like other Masala Bhangra Ambassadors, you also teach Zumba. Do you find students come for both kinds of classes?
Yes, many of my Zumba students do come to my MB class. They tell me it is more physically challenging, they like the instructional part of it, the energizing music and the awesome workout!
What's been surprising about being an Ambassador (good or bad)?
The Good: I look forward to getting the quarterly MB music mixes. I also love the monthly choreography, as it gives me lots of ideas for coming up with fresh and new ideas for my classes. I'm thankful that there are so many wonderful Ambassadors out there that share their thoughts and ideas whether it be about music, choreography or experiences.
The Bad: I wish I lived closer to New York so I could attend one of Sarina's live classes – I'm sure it would be an awesome experience and I know I would learn a lot!!
Do you have any advice for people considering becoming an Ambassador?
Go for it, you will not only love it but you will learn about another culture. MB is a great format to teach and students seem to like the add-on approach. You can be creative in your choreography and music selection. I love that I can connect with my students more as I am talking throughout. The class is fun not only for students but for me too. Students enjoy it because they feel successful, they learn the steps and so get a great workout.
What's the Masala Bhangra community like in North Carolina?
MB is still very new in NC as there are not many Ambassadors, but it is definitely growing, mainly through word of mouth. I wish more men would come to class! The ones that do seem to really enjoy it.
What's your favorite dance step/move or favorite song?
My students really like Dhol beat. I have many favorites – Soar, Tic Toc, Stick and Punjabi boy are just a few. My students love the song Laungda Lashkara, they call it the happy song – I often start my jam out with that song. I especially enjoy the English remixes.
Share On
I live in NC and it is good to see that MB is spreading in NC. I am an ambassador and was trained by Sarina in 2010 and have taught classes off and on over the years. Initially I was teaching Zumba at the church and introduced MB and they loved it, so I mainly teach MB now.
---