Making a Difference: A new Ambassador Introduces Masala Bhangra to At-Risk Youth in NYC
July 17, 2018 [Carissa Sarreal]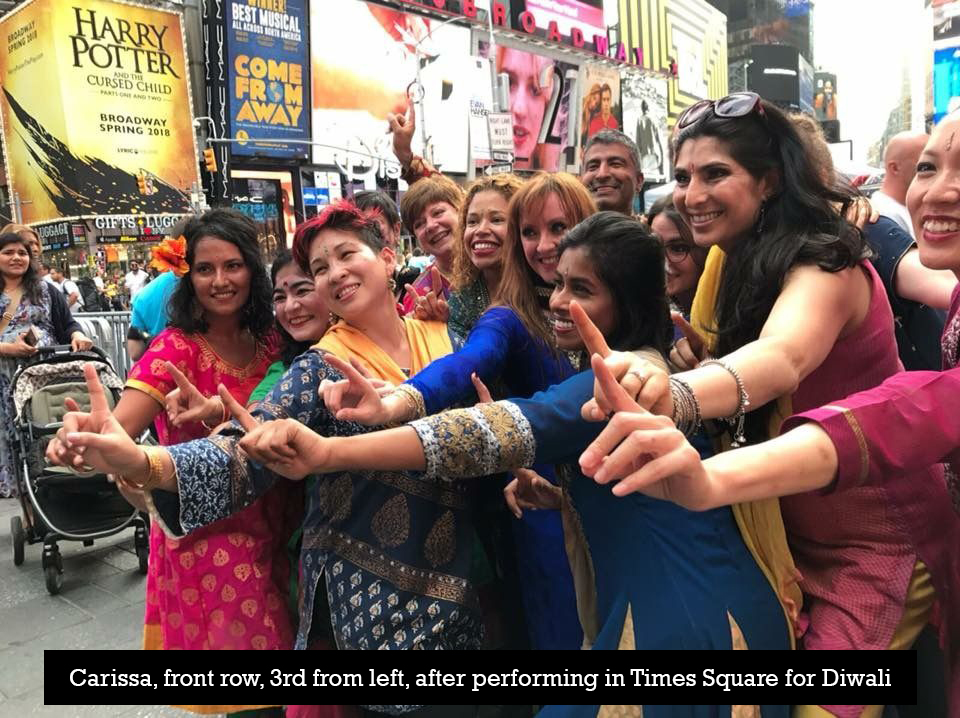 When did you discover MB and what were your first impressions?
I started taking cardio classes at Alvin Ailey in an attempt to lose weight. My first MB class, a recommendation from the staff, I found really challenging. I retreated to the back of the room to rest and Sarina called me out to say there was no break or something to that effect! So I said okay, you're not ready just yet. I attended a few other classes at Ailey to build up to be able to go back to MB. The intensity of the class left an impression on me. I was determined to be able to survive a full class. While you could take it slower, there was always a higher goal you can set for yourself like do I start with low impact and then go crazy at the end, or can I jump a little higher this time, etc.
Have you always been a dancer or involved in fitness?
I have always loved to dance but was never formally trained. I was in Polynesian dance on and off for over 10 years starting from college, but it was mostly for show/performance. In 2013, at 30 years old, is when I incorporated health, wellness, and fitness in my life. I was mostly attracted to dance classes as a workout. Any chance I have I'm signing up for tap, ballet, hip hop, ballroom, etc.
When did you become an Ambassador?
Spring 2017
Why did you decide to make the leap to teaching MB?
A co-dancer from a Polynesian group I was with turned me on to a nonprofit dance studio as her substitute teacher (this was a Polynesian dance class). I already had a teaching background - I taught after school science programs to elementary age children. In the summer of 2017, I was going to be teaching my own class and got to choose any style I wanted. I thought why not, it would be another style of dance to add to my background.
How did you grow your classes / student base?
I started with 5-7 year olds for a summer class. In the Fall, I asked for 10-12 year olds. These girls had never heard of Masala Bhangra nor seen styles of dance from India to begin with - so it was a shot in the dark for them on the premise that they were going to get a free dance class. The studio was equally excited to have new styles of dance from other parts of the world come in (we had so many ballet, jazz, and modern classes).
Have you participated in other MB performances?
I've been in 2 workshops culminating in performances for 2017 and now 2018
Tell us about your work with children. How did they feel about learning a new kind of dance form?
Groove With Me Inc offers free dance classes for urban youth as a safe space for young girls to hang out after school. It prevents them from being involved in crime, drugs, truancy, teen pregnancy, etc. Dance is a bridge to teaching the girls responsibility, respect for their environment, leadership, teamwork, creativity, to be fearless and believe in themselves. We have several teachers from all backgrounds come in to volunteer their time mentoring the girls.
At the start of every class, we set aside about 15 minutes for the girls to talk about their day, to share whatever topics they're concerned about. I also utilize those 15 minutes by teaching a bit of culture and the background of MB. I show them pictures of India, we watch videos of dance, look at pictures of costumes and discuss, including videos of MB classes and performances. My 10-12 year old were very receptive. We keep a record of every move they learn and we recall them in every class. For my birthday, the girls choreographed their own number and performed it for me. That was the proudest moment of my first year with them.
MB was so well received that a few of the other 10-12 year olds in other classes expressed they'd like to join next year to learn something new. My 13+ Polynesian class was right after and those girls asked to be taught some MB during that class period, and have asked if I could teach MB for their age group in the next year. Here they are in action!
You have other skills and talents - can you tell us about other parts of your life when you're not dancing?
My day job is a wine bartender for Vin Sur Vingt - a French wine bar with 6 locations in Manhattan. I am in the middle of Level 3 certification with the Wine and Spirit Education Trust to become a sommelier. Like MB, it was more of a career move to add to my resume to see where it could lead me. I tend bar for several of our wine bar locations.
Do you have any advice for people considering becoming an Ambassador?
You never know where it could take you. I started this just to be able to work with the kids for an hour or two a week. Now I am also employed by the YMCA of New York as an MB teacher for their group fitness class for adults. It honestly just fell into my lap which I am so grateful for, as I have the most fun when I'm choreographing. I'm all about the chance to get to work out and help others work out as well.
What's your favorite dance step/move or favorite song?
The Whistle - I've started choreography with this move. The kids love it. The adults need more convincing.
Favorite song at the moment is "24K Chasma" a Punjabi Bruno Mars remix.
Carissa with her young students.
Share On
This is fantastic! Great work Carissa.
---